VIKING by Carmen Jenner
Release Date: April 16th
Genre/Tropes: Dark Romance/Age Gap/MC Romance
AVAILABLE NOW!!!
Amazon US: https://amzn.to/3tku0tG
Universal: books2read.com/VIKINGVIIKNIGHTS
Add to Goodreads:
https://www.goodreads.com/book/show/58748311-viking
Blurb:
𝗧𝗵𝗲𝘆 𝘀𝘁𝗼𝗹𝗲 𝗵𝗲𝗿 𝗶𝗻𝗻𝗼𝗰𝗲𝗻𝗰𝗲 𝗮𝗻𝗱 𝗵𝗲𝗿 𝘃𝗼𝗶𝗰𝗲.
𝗧𝗵𝗲𝘆'𝗿𝗲 𝗴𝗼𝗻𝗻𝗮 𝗿𝗲𝗴𝗿𝗲𝘁 𝗶𝘁.
A gritty, age-gap MC romance inspired by The Little Mermaid from USA Today Bestselling author Carmen Jenner
As club president of the VII Knights MC, I've built one hell of a reputation.
When it comes to killing, I've done my Viking ancestors proud. But my name, my strength, and my brutality meant nothing … because I couldn't save the one girl who mattered most.
Raised by a sadistic cult, Arie had only known pain and savagery. Until she wound up in the back of my van holding a knife to my throat.
She should be in high school, dating jocks and experiencing her firsts with guys her own age, but the little siren I found washed up on that beach has her sights set on me.
I'm old enough to be her father.
I'm old enough to know better.
But I can't turn her away.
***MAKE SURE YOU READ THE TRIGGER WARNINGS!!!!!!****
This is an age gap romance that had me captivated from the very first page. The storyline flows really well, and is evenly paced.
A dark and twisted love story that is not for the faint of heart. Viking is the president of is VII Knights MC. He is ruthless, twisted, and will do anything for his club. Arie is the absolute complete opposite. she is meek, quiet, BUT has a dark streak within her that calls to Viking. Their story is dark, delicious, and filled with vengeance. I loved it!
I can not wait to see what else we may get out of this MC chapter.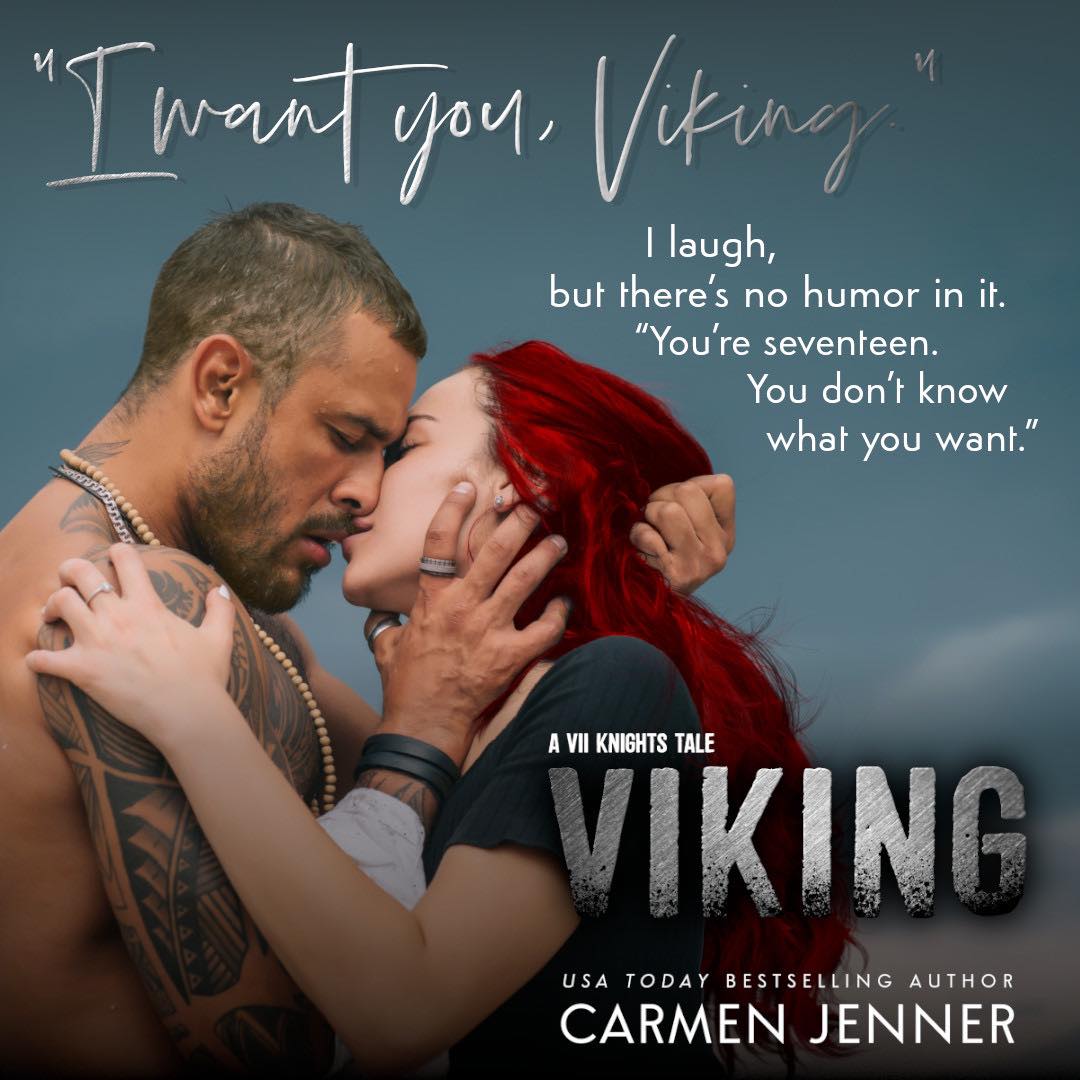 About the Author:
Carmen Jenner is a USA Today and international bestselling author.
A hardcore red lipstick addict and a romantic at heart, Carmen enjoys books—duh!—long walks through Sephora, tattooed boys, and eyeliner so sharp it could kill a man. She lives in small-town, Australia, where she wrangles her two children, a French Bulldog named Busy, and her very own manchild.
Carmen always gives her characters the HEA they deserve, but not before ruining their lives completely first … because what's a happily ever after without a little torture?
Connect w/Carmen:
Website: http://www.carmenjenner.com/
Facebook: https://www.facebook.com/CarmenJennerAuthor/
Sugar Junkies (reader group): http://bit.ly/2x3K4pP
Instagram:www.instagram.com/carmenjennerauthor/
Amazon:http://amzn.to/1IjRUdg
Bookbub: https://www.bookbub.com/profile/carmen-jenner
Books + Main: https://bookandmainbites.com/users/2266
Pinterest: https://www.pinterest.com.au/carmenjenner/
Newsletter:https://www.subscribepage.com/carmenjenner