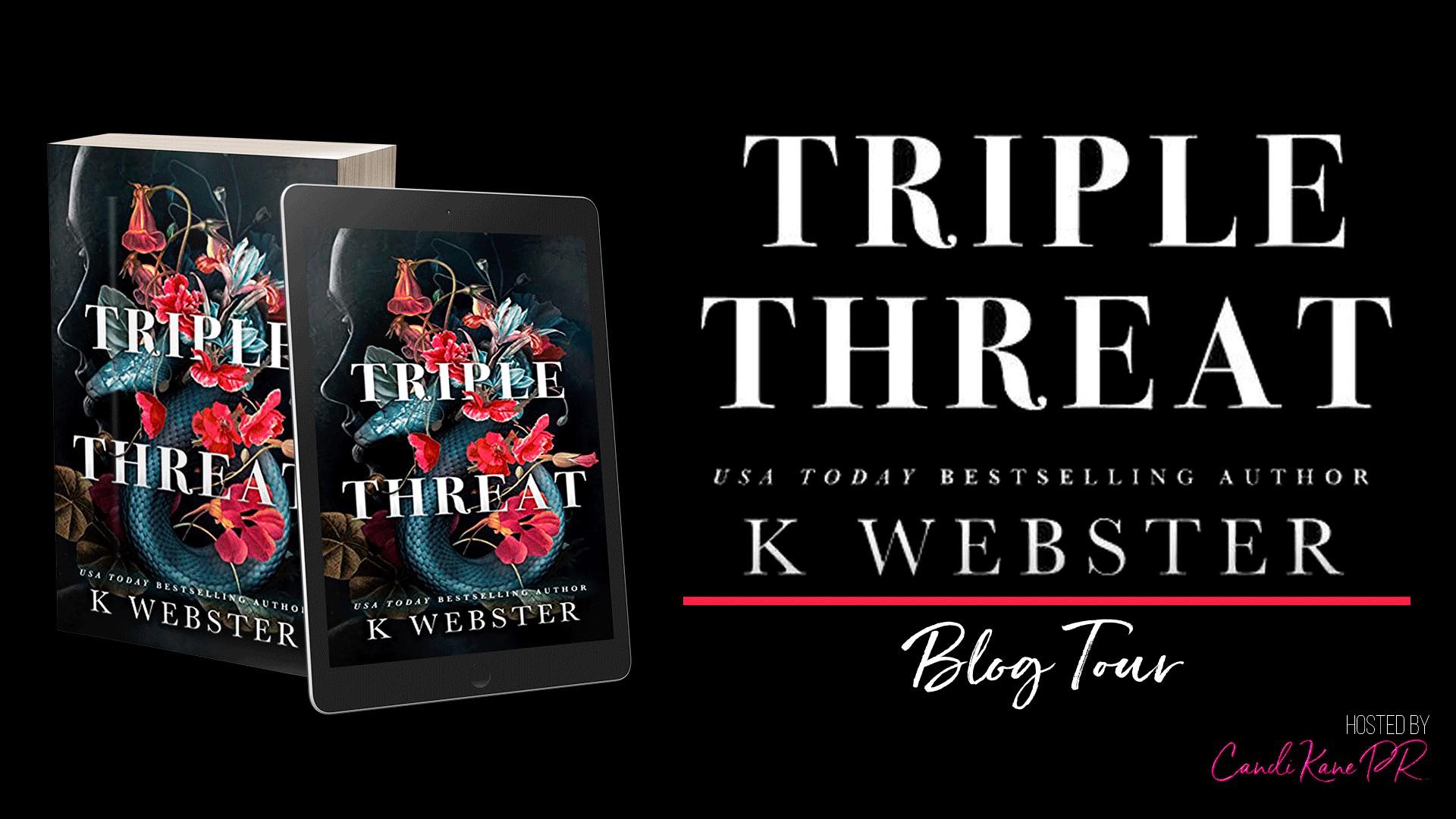 TRIPLE THREAT by K. Webster
Release Date: January 11th
Genre/Tropes: Reverse Harem /Cinderella Story
AVAILABLE NOW!
Amazon: https://amzn.to/3krtWV2
Amazon INTL: https://bit.ly/3BoJxeG
Barnes & Noble: https://bit.ly/2WQpFlS
Apple Books: https://apple.co/3h7ecpr
Kobo: https://bit.ly/3jNTcWy
Google Play: https://bit.ly/3AF9aZ7
Add to Goodreads:
Blurb:
I'm a prisoner in a prestigious world.
A perfect princess locked in a tower.
My father will never let me go.
Not that I could leave. I would never abandon my little sister. Hope comes in the form of a devilishly handsome man with dark eyes and darker secrets.
With each encounter, I'm lured deeper into the labyrinth. The danger lurking beneath his surface calls to me, even as it warns me away.
Except there's a new side of him every time we meet. A different danger each time we touch. It's as if three different men want to devour me.
He's not just one villain. He's three.
What a twisted fairy tale….
Landry our heroine has led a sheltered life. She takes on the role of protector of her little sister Della seriously. Landry is stronger than she thinks. She knows what she needs to do to protect. not only herself, but her little sister. Her father has different plans for her. He has decided that it is time for Landry to marry….
Enter our 3 that's right people 3 heroes… Scout, Sparrow, & Sully are 3 devious delicious heroes who are tasked with Landry. Now these 3 were introduced in the Cinderella trilogy and to say they were not very liked would be an understatement. However in this book we get a little more background and dare I say we begin to understand just why these three are the way they are.
There are more than a few secrets in this book. Twists and turns that will have you salivating for more.
About K. Webster:
K Webster is a USA Today Bestselling author. Her titles have claimed many bestseller tags in numerous categories, are translated in multiple languages, and have been adapted into audiobooks. She lives in "Tornado Alley" with her husband, two children, and her baby dog named Blue. When she's not writing, she's reading, drinking copious amounts of coffee, and researching aliens.
Connect w/K. Webster:
Website: https://authorkwebster.com/
Facebook: https://www.facebook.com/authorkwebster
Twitter: http://www.twitter.com/KristiWebster
Instagram: https://www.instagram.com/authorkwebster
Goodreads: https://www.goodreads.com/author/show/7741564.K_Webster
Bookbub: https://www.bookbub.com/authors/k-webster
Amazon: https://www.amazon.com/K-Webster/e/B00JOJ86CW
Newsletter Signup: http://eepurl.com/bllgoP